I feel the need to explain this because I don't think everyone gets it. If you look around you in your own personal life, you will see what I mean. Life is not explainable to some. Some, maybe you, don't know your purpose. Maybe you think there is no purpose. Maybe you think there might be a purpose, but you choose to not care or have never put the effort into to searching for it. I am here to tell you that there is meaning to life. Have you ever felt that desire to know why you may feel empty? Maybe you have searched out happiness, but came to dead ends. Maybe you find it for a moment, but it seems to die out. It's okay to feel empty and incomplete. You are not the only one. I have bad news for the ones who feel empty: you will never find true joy or fulfillment in life anywhere in this earth. That's the truth. That drive you may have towards sex, drugs, alcohol, video games, or anything you are pursuing. It can be good things too. "If I just had a steady paying job, then I would be truly happy" or, "When I find the love of my life and start a family, then I will finally be happy" or even, "If I just live a life looking for the good times and live for the moment, I'll be able to make it." Life isn't a game; this is reality. There is a true meaning to life. Let me save you from going down a road leading to pain. I don't think anyone wishes to live a life to a dead end. You don't want to live your life searching and get to the end feeling like you've lost. I never had true fulfillment in life until I was completed. I found the piece to my life I needed. If you start to disagree with what I am about to say, still try to read to the end. Maybe I can change your mind. I don't want to sound crazy or put a story in your head. I just want to tell you what is real to me and can be real to you also, and that is a relationship with God. I think that's when life became real to me; I realized that I had a Creator and would rather put my trust in Him than in myself. I think it just makes sense to put trust in someone with full control, than in myself who has no control. God is omnipotent, omniscient, and omnipresent (He's all powerful, all knowing, and everywhere). He has control, He knows what's best, and He is always with me. I don't know how it doesn't make sense to ask Him to guide my life instead of blindly doing it on my own. He honestly makes life so much less stressful. I never need to worry about anything, knowing that God has His reasons. But having a relationship with God is not something that you just decide to do. God is perfect; you are not, nor is anyone. God can't have someone as awful and wretched as us in His presence. He is far beyond holy, and we are less valuable than dirt. That's why God gave us His word. It teaches who we are, who He is, and what He did for me and you. Maybe you don't believe in the Bible. Well, it hasn't been proven wrong yet. It's stood the test of time, It's the most sold and smuggled book in the world, and it's made obvious the need of a Saviour in the lives of those who accept its truth. If you don't believe in the Bible, why not give it a chance today. I will give you some basic points that I have learned from God's word that have changed my life. First, the Bible tells me I am a sinner, someone who makes mistakes, falls to temptation, and breaks God's holy law. He set a foundation that I should live by, and I have broken it. I may not be the worst person in your eyes, but in God's all he sees is a filthy heart. I have recognized that I am a sinner that has to pay for what I have done. God can't just sweep my sin under the carpet. A payment has to be made. Romans 6:23 tells me that the payment for my sin is death. Yes, I have been condemned to death. I am a sinner; you are a sinner. We are ALL sentenced to death, but God didn't stop there. This story doesn't have to have a sad ending. If you finish the verse up above, there's a second part to it. God gives a gift. "the gift of God is eternal life through Jesus Christ our Lord." God made a way for us to still be united with Him. He sent a sacrifice to take the place for something you and I did. He sent His only son! God gave up His son, Jesus Christ, who lived a perfect life, to be a pure sacrifice for the sins you and I commit every single day. That must have been so hard to do. Does that not sound awful? If you knew someone deserved death, would you give up your son to take his place? Does that even make sense? God gave his only son to die on a cross as a payment for the world's sin. He died taking those sins to the grave with Him. Sounds like a sad story. Don't worry, it's not over. You see, Jesus didn't stay in the grave. Three days later he rose from the dead, and guess what He didn't bring with Him? The weight and power of sin was not strong enough for God. He left those sins in the ground, and through His son, made a way for us to have full unity with Him. God made a purpose for my life and yours. Our purpose is to accept that gift of life and live for Him. He gave the perfect sacrifice and through his grace, He made a way to be saved from sin. Sin leads to vanity. It may feel good for a moment, but it will pass away. God is eternal. Accepting the gift of life is everlasting. True joy is only found in Jesus Christ.

Now it's time for you to make a decision. God gives us the choice to accept the gift of His son, or to live life the way we want. The choice is obvious to me, but I can't make the decision for you. It's time for you to choose. Maybe you think, "I'm not that bad" or, "If I just be good God will have to accept me." Romans 3:23 says "For all have sinned, and come short of the glory of God." Isaiah 64:6 tells me that my 'good' works are like filthy rags. We can't work our way to salvation. We can't work our way to fulfillment in life. You need to come to the realization that you are a sinner and deserve death, but God has given you an opportunity to accept His son, Jesus Christ, and to save you. It's not a magic potion; there's no magic words to say. Romans 10:9-10 says, "That if thou shalt confess with thy mouth the Lord Jesus, and shalt believe in thine heart that God hath raised him from the dead, thou shalt be saved. For with the heart man believeth unto righteousness; and with the mouth confession is made unto salvation." It's really not hard to understand. You have two choices before you. You can choose to surrender your life over to Christ, or you can live on the rebellious path you have started. Come to Christ now before it's too late. Come to God and ask for forgiveness; He won't forsake you. Know that there is a purpose in life. My purpose is to live a life that is pleasing to the Lord. I just want to be a blessing. I have my purpose in life; what's yours?
Powered by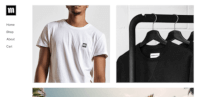 Create your own unique website with customizable templates.